Welcome back to my monthly look at Star Citizen where I'll explain the different things that you the listeners need to know before deciding if you want to join me when I move my show over to that game in the coming months. Just a reminder this will be alongside KPR's other shows in Star Trek Online. We're just branching out into another game and have no intention on forgetting where we came from and the great community that we have in STO.
In this month's blog I'll start to go into the different aspects of actually getting into the game, what you need to know, and to debunk one or two myths that I've heard through STO and when I moderate Star Citizen's Twitch channel.
So let's get started.
The first thing you guys need to know is that Star Citizen is a crowdfunded project. There is no publisher or any other companies involved with making and releasing the game other than Cloud Imperium Games and its head Chris Roberts. He's the guy who was behind the Wing Commander games back in the 90's but then moved into movie directing when he became disillusioned with the video games industry. At time of writing they have raised over $151 million dollars. But remember this: they want to run the game for a very long time after release and it's all going to cost money, especially if they are going to produce new content etc. So they are still raising money by selling in-game assets such as ships, space motorcycles, ground vehicles, and physical merchandise such as hoodies, t-shirts, mouse mats and other goodies. This isn't to pay for Chris Roberts's new holiday home, yacht, plane or anything else. It's to go into the game and make sure it has as long a life span as possible, nothing more, nothing less. That's one myth I've heard that in my opinion definitely needs debunking.
The next myth that's been bounded around is the fact you need to spend $15,000 to get into the game. This has been bounced around by a group which ultimately wants to see the game fail. They go out of their way to spread lies and other BS to prevent people from backing the game. (There's a whole long story that goes with this but that's the nuts and bolts of it).  While you can spend $15,000 to back the game (you get all the ships and pretty much everything currently released I believe), you honestly don't have to do so. I believe it's about $45 for a game package that allows you into the MMO game (I actually get all my prices in pounds and when I look at the dollar price it adds 20% on because of the VAT we're charged in the UK, so any screenies you see will have a slightly higher price but honestly just remove 20% and it'll be about right).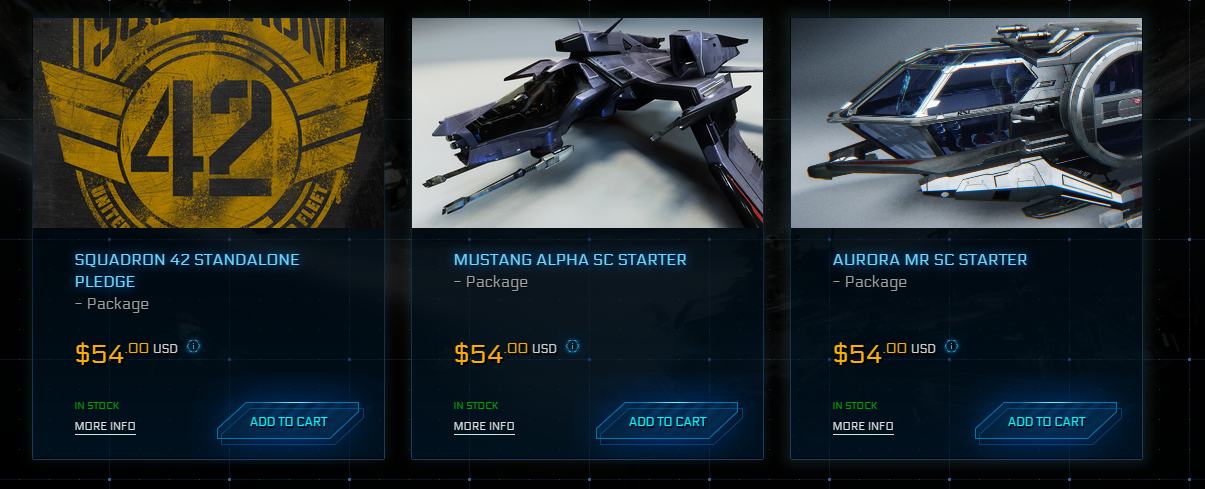 As you can see in the above pic you really don't have to pay $15,000 to get into the MMO game. The package on the far left is for the single player game aka Squadron 42 which has Mark Hamill, Gary Oldman, John Rhys Davis, Gillian Anderson just to name drop a couple of the cast. Andy Serkis is even involved as a member of the bad guys, the Vanduul, in the single player game when its finally released.
One final thing that is important that I need to let you guys know, you buy the starter pack to get into the MMO game. It's the only thing you need to buy as all the ships, clothes, everything, will be available to buy for in game currency when the game is released. Cloud Imperium Games have stated many times that when the game goes live all ships will be removed from the store  and you won't be able to buy them for real cash. So while you do have the option to spend more cash on ships at time of writing, you seriously don't have to. To be honest with you guys I just bought a game package with a Aurora LN (Similar to the Aurora in the picture above but it has better weapons and it slightly upgraded), and apart from a ship I've won on Twitch (Thanks to Capn_Flint, Twitch.tv/Capn_Flint)  I don't have any other ships and I fully intend to earn any others in game.
Remember, if you have any questions you can message me on Discord or via my Facebook page, facebook.com/neridium.
But that's it for this month, be well, take care and I'll see you soon.